Welcome to
Phuket Indian Weddings
Celebrate your culture and love in perfect harmony with an Indian wedding at the tropical paradise of Phuket. Whether you are looking for a traditional Indian ceremony or a blended Western-Indian wedding, we are perfectly suited for the wedding celebration of your dreams. With a private beach venue, a variety of picturesque venues, professional banquet team, first-class Indian and International catering, and luxury accommodations- we can tailor the event of your lifetime.
With our perfect beachfront location, Thavorn Beach Village Resort & Spa has officially been nominated as "Asia's Leading Wedding Venue" in the prestigious 2018 World Travel Awards.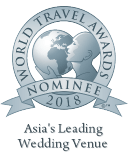 Service
Our team of wedding professionals are dedicated to your special day. We provide an exceptional array of personalized services that will create your perfect Indian wedding in Phuket.
Wedding Packages
To create the Indian wedding of your dreams, we can tailor venue decorations and themes according to your preferences. In addition to our team of professionals, you are always welcome to bring in your preferred Indian wedding planner to assist you in your special day.
Our Gallery
Take a glimpse at some of the past weddings and decorations at our resort.